LESLIE SALMON JONES: Founder of Afro Flow Yoga®
Afro Flow Yoga® founder, Leslie Salmon Jones enjoys a career working with clients, students, diverse populations, and community organizations to help develop mastery over their physical, emotional, mental and spiritual well-beings. Since dancing at the age of seven, Leslie has been living her dreams as a professional dancer, certified holistic personal trainer, yoga instructor, certified wellness coach, and public speaker. She completed her BA in interdisciplinary studies in health sciences and dance at SUNY, NYC and has had the opportunity to study and train with world-renowned masters of dance, yoga and spirituality. It was through her intensive dance training at the Alvin Ailey School in New York that Leslie was first introduced to yoga, and nearly twenty years later, she remains dedicated to her yoga practice. It was the connection with African spirituality, yogic principals, the intrinsic expression of movement through nature's elements and a transformational journey throughout Africa and the Caribbean, that inspired Leslie to create Afro Flow Yoga® in 2008. Along with her husband Jeff Jones multi-instrumentalist, recording artist, musical director and co-founder, they currently offer AFY weekly classes, monthly workshops and teacher trainings in Boston and New York. AFY workshops and retreats are also offered at The Omega Institute, Kripalu Center, Festivals, Colleges and Universities, and at studios worldwide including Hawaii, Jamaica, Costa Rica and Canada. Afro Flow Yoga® has been featured in Yoga Journal, Black Enterprise, Exhale Magazines, "Better Living with Liz Walker," NBC and ABC news. Leslie and Jeff co-produced two wellness DVDs:"Core Strength: Back to Basics" and "Core Power: Radiate the Energy Within", available online and at local Whole Foods stores in Boston. Leslie also teaches weekly Core Strength & Core Power classes in Boston along with her Living From Your Core™ program. To learn more please visit, www.lesliesalmonjones.com.
JEFF W. JONES: Co-Founder and Musical Director
Afro Flow Yoga® co-founder, Jeff Jones, is a multi-instrumentalist, recording artist, musical director, composer and co-creator with his wife and founder, Leslie Salmon Jones. Jeff creates an intuitive dynamic flow through a stream of consciousness and the mastery of African inspired rhythms, instruments and vocals, synergizing the class collective. His use of the Djembe, which he brought back from Ghana, congas, bongos, Sudanese acholi lyre, Indian bells, tambourine along with an eclectic array of tonal instruments, makes for a healing musical journey.
He has co-facilitated classes, workshops and retreats at the Omega Institute, Kripalu Center, Alvin Ailey Dance Center, Boston Yoga and Chant Festival, Caribbean Yoga Conference, Maui yoga retreat, and Forestdance, to name a few.
In addition to his role at Afro Flow Yoga®, Jeff has enjoyed a career as a professional musician for over 20 years and comes from a lineage of three generations of accomplished musicians. He has been blessed to travel the world performing on many continents and has played various musical genres and venues such as Scullers Jazz Club, The Supper Club NYC, Windows on the World,, Berklee Performance Center and Mile High Stadium. He has performed for the inaugurations of President Barack Obama and Governor Deval Patrick, and has opened for greats such as Little Richard and Al Green.
Jeff produced and engineered two wellness DVD's Core Strength: back to basics and Core Power: radiate the energy within, which he co-created with Leslie Salmon Jones.
Check out Leslie Salmon-Jones & Jeff Jones on:
Facebook
Youtube/Vimeo Channel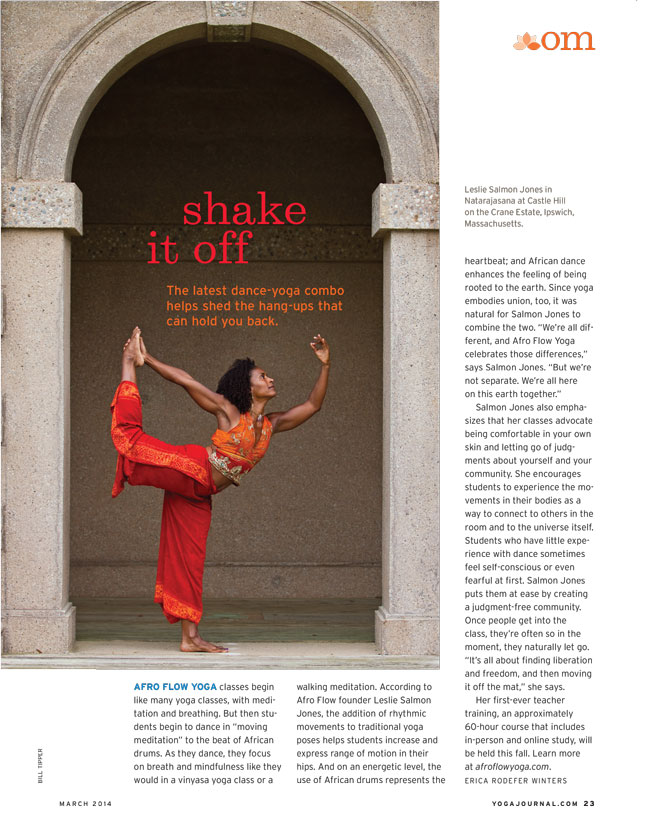 Afro Flow Yoga
Experience the creative, unique fusion of vinyasa and Kundalini inspired yoga with dance from the African Diaspora. Afro Flow Yoga™ cofounders Leslie Salmon Jones and Jeff W. Jones guide us on a transformational journey of heart-opening movement, deep stretches, singing, meditation, relaxation, and reflection—all interwoven with the dynamic rhythmic release of energizing and healing percussion with vocals. Together in a nonjudgmental environment, we celebrate the freedom of movement, connect to the elements of nature, and tap into the power of our collective, creative energy with live drumming! No experience necessary; all levels are welcome.